Queenstown Helicopter Weddings at Mount Crichton
🔎 Views
Mount Crichton is one of the lesser known Queenstown helicopter wedding locations which only adds to the adventure of your day. From Mount Crichton you can scan north to where the Dart & Rees Rivers meet Lake Whakatipu as well as spot Pig and Pigeon Island down in the water below. Across the lake is nothing but miles of mountains peaks which leads your gaze south to find The Remarkables in the distance. With no sight or sound of civilisation this is the perfect helicopter wedding spot for an adventurous and intimate wedding.
📌 Location
There are various landing options at Mount Crichton but our favourite spot is at the very top, nearly 6000 ft! Your flight to Mount Crichton is 10-15 minutes so you can enjoy a little more helicopter time than Cecil Peak or The Remarkables without totally busting the budget. There's space for multiple helicopters to land if you're bringing friends and whānau with you, or simply enjoy the serenity just the two of you. 
❄️ Snow
If you're dreaming of snow for your Queenstown wedding photos then Mount Crichton could be the perfect fit. The high altitude ensures great snow coverage throughout winter and it often sticks around for most of spring too. You can cuddle into each other to stay warm and cosy, plus there's always the option to hire a fur jacket or add on a flask of mulled wine too. And our favourite thing about winter weddings… Snow confetti!
🌅 Sunset
Mount Crichton is an excellent vantage point for your sunset wedding photos. If you're keen to basque in the golden hour light then we'll ensure to book the last flight of the day, just for you. There's something extra special about mountain top sunsets, especially as newlyweds.
💵 Cost
The mid-range flight time puts Mount Crichton helicopter weddings at a price point between local favourites Cecil Peak/The Remarkables and more far off destinations such as Lochnagar. All our heli-wedding packages include a 60 minute landing time for your wedding ceremony, celebratory toast and lots of photos.
🚁 Adventure
If you want to add even more adventure and beautiful photos to your wedding day then why not add on a second landing location? Our favourite locations to pair with Mount Crichton include Lake Erskine, Earnslaw Burn, and Vanguard Peak.
All Shaken & Stirred Wedding packages at Mount Crichton include:
Professional photography
Registered marriage celebrant
Assistance obtaining your NZ marriage licence & NZ marriage certificate
Private helicopter with one hour landing for your ceremony and photos
Bottle of local sparkling wine or shots of Fireball to celebrate as newlyweds
Private online gallery to view and download your wedding photos easily
You can add endless extras, including:
Hair
Makeup
Bouquets
Buttonholes
Flower petal confetti
Signage & stationary
Videography
Brunch/lunch/dinner
Newlywed picnic
Cakes & desserts
Entertainment & music
Rental attire & accessories
Accommodation
Transport
Helicopter Wedding Locations Map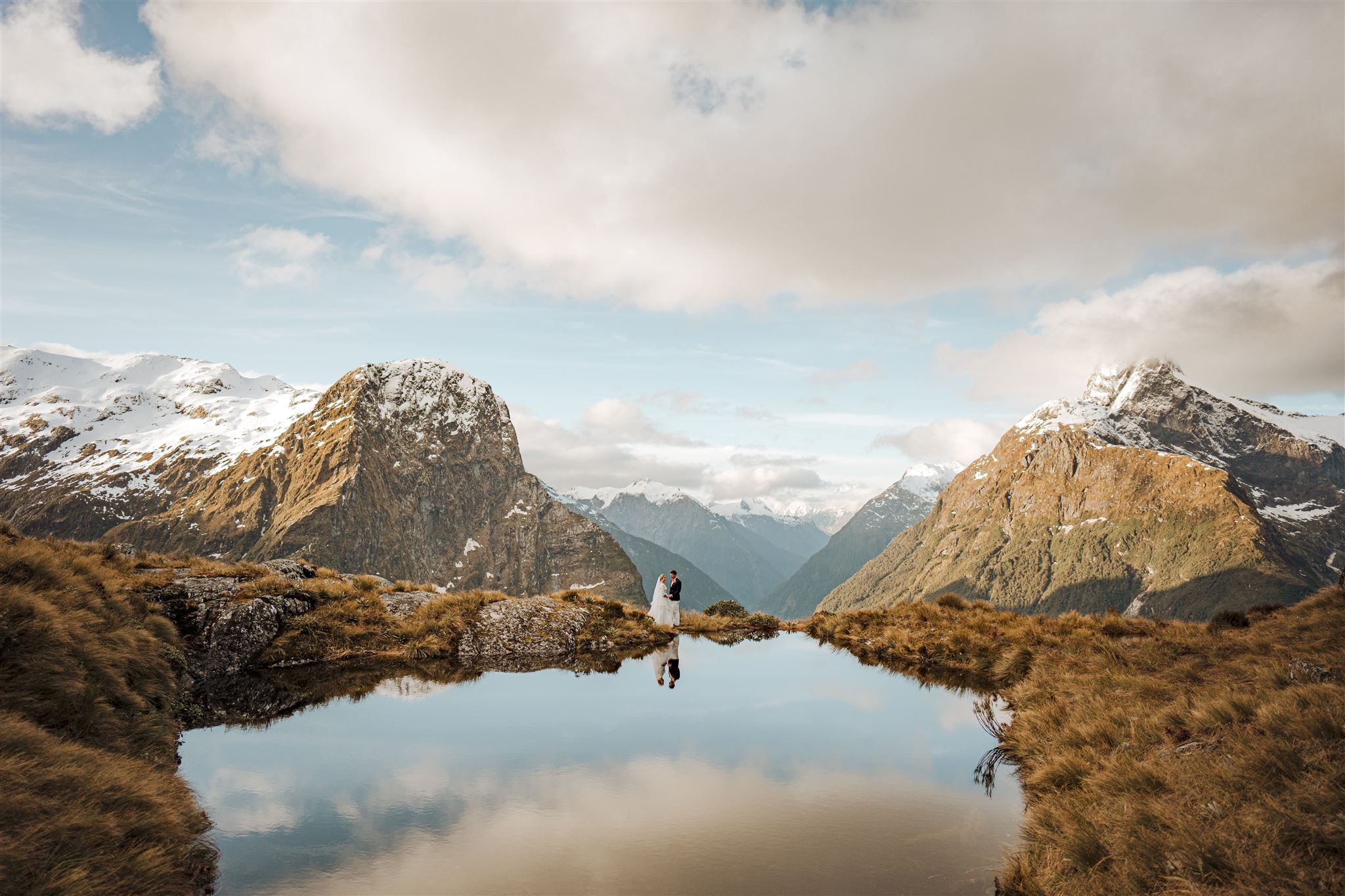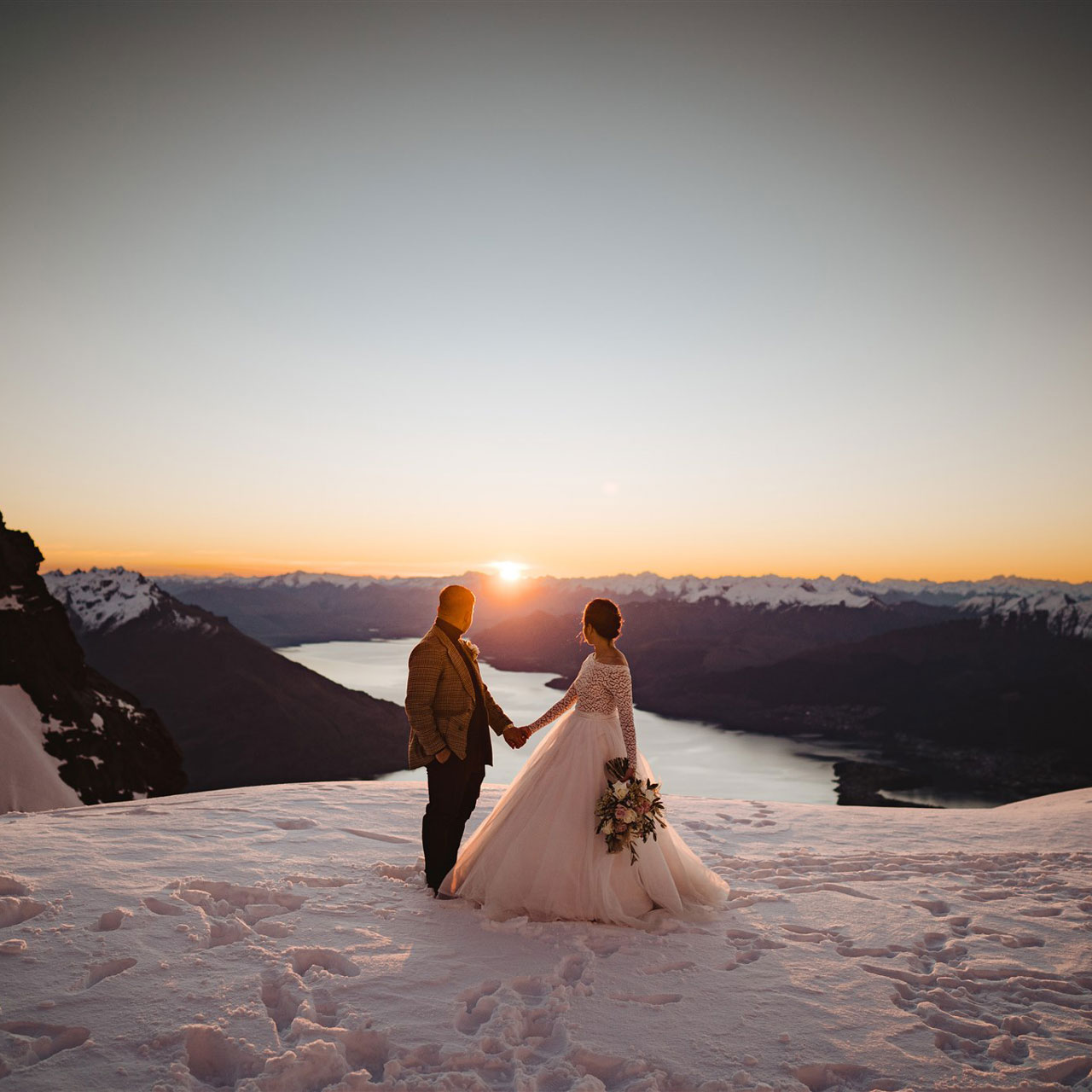 Double Cone, The Remarkables
Show Places