Queenstown Helicopter Weddings at Double Cone, The Remarkables
📌 Location
At 7500 ft, Double Cone is the highest point of the iconic Remarkables mountain range in Queenstown. Despite the high altitude this landing location is just a short 5 minute helicopter flight from Queenstown's helicopter hubs in Frankton. The short flight time makes Double Cone at The Remarkables one of the most affordable heli-wedding locations. And, if you're working on a tight schedule or don't want to be away from your friends and family back on the ground for long, then you may have found the perfect spot! However, if you decide to bring a crew with you to say "I do" at Double Cone, there is plenty of space for multiple machines and we'll have enough bubbles to go around!
❄️ Snow
Double Cone at The Remarkables is the best local heli-wedding landing location for snow close to Queenstown. This winter wonderland has with great snow coverage in winter and early spring to give you real white winter wedding photos. You can hold your other half tight to keep warm or warm up with some Fireball shots… Or both! And, we can even throw in some snow confetti free of charge!
🌅 Sunset
Ready to watch the perfect snowy sunset on your wedding day? Double Cone is the absolute perfect spot for winter golden hour wedding photos. The high altitude means you can enjoy the very last light of the day and be amazed as the sky changes colour around you. We can ensure to book the last helicopter flight of the day for you to secure your front row seat to the most incredible Queenstown sunset.
🔎 Views
One of the things we love the most about Double Cone is the romantic and remote feeling. From this unique vantage point you cannot see Queenstown or any civilisation which adds to the drama of your heli-wedding adventure. Double Cone at The Remarkables boasts truly epic views across Lake Wakatipu and the surrounding mountain range. You'll feel isolated and inspired by this incredible landscape which translates into some pretty amazing wedding photos to treasure forever.
💵 Cost
The shorter flight time compared to more intrepid locations (such as Lochnagar) often keeps Double Cone within even the most modest Queenstown heli-wedding budget. All our heli-wedding packages include a 60 minute landing time for your wedding ceremony, celebratory toast and lots of photos. 
🚁 Adventure
Adding a second landing to your Double Cone heli-wedding adventure brings some extra excitement and different photo opportunities. Our favourite locations to pair with Double Cone include Coromandel Peak, Lake Erskine and Cecil Peak.
All Shaken & Stirred Wedding packages at Double Cone, The Remarkables include:
Professional photography
Registered marriage celebrant
Assistance obtaining your NZ marriage licence & NZ marriage certificate
Private helicopter with one hour landing for your ceremony and photos
Bottle of local sparkling wine or shots of Fireball to celebrate as newlyweds
Private online gallery to view and download your wedding photos easily
You can add endless extras, including:
Hair
Makeup
Bouquets
Buttonholes
Flower petal confetti
Signage & stationary
Videography
Brunch/lunch/dinner
Newlywed picnic
Cakes & desserts
Entertainment & music
Rental attire & accessories
Accommodation
Transport
Helicopter Wedding Locations Map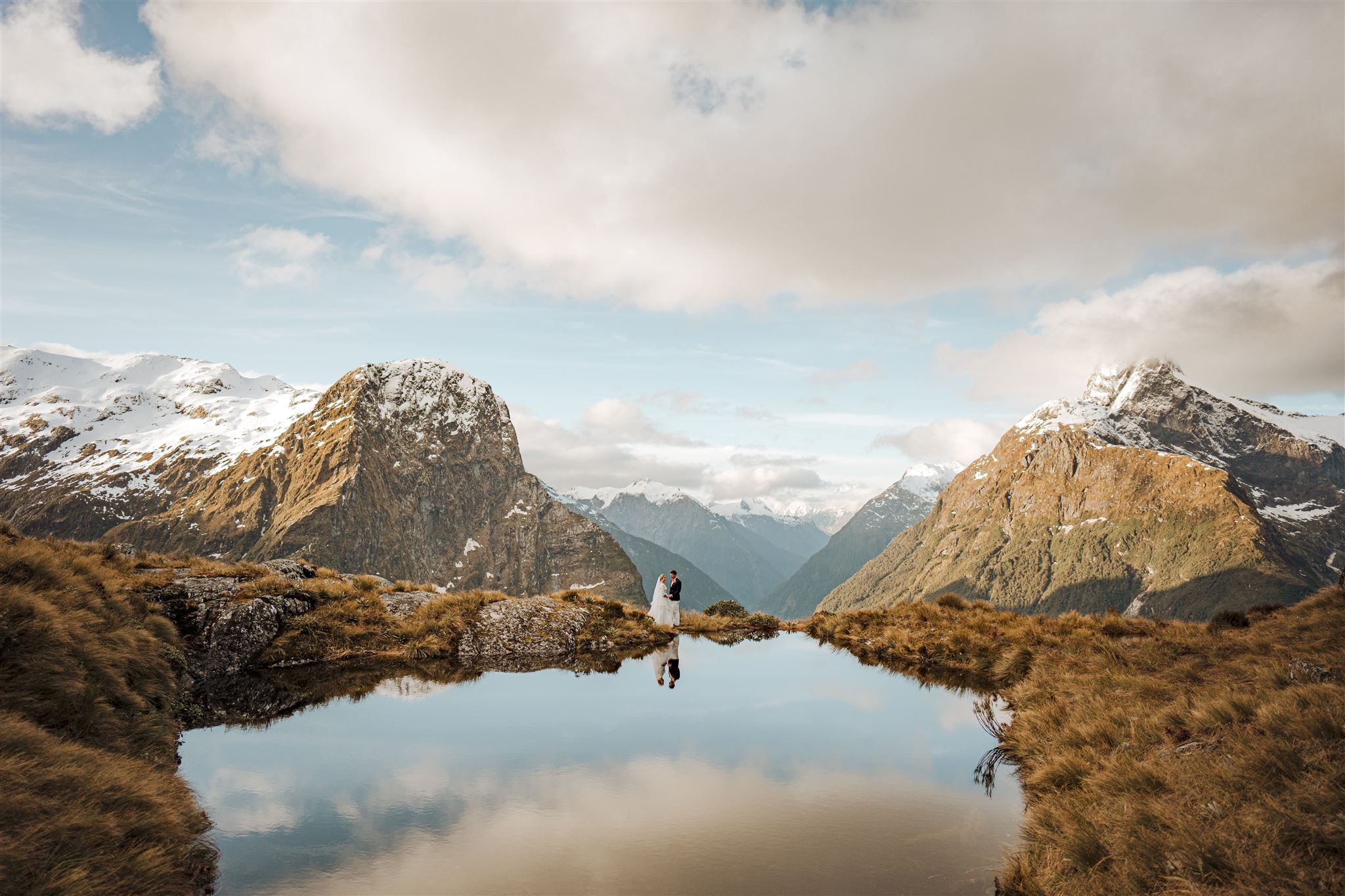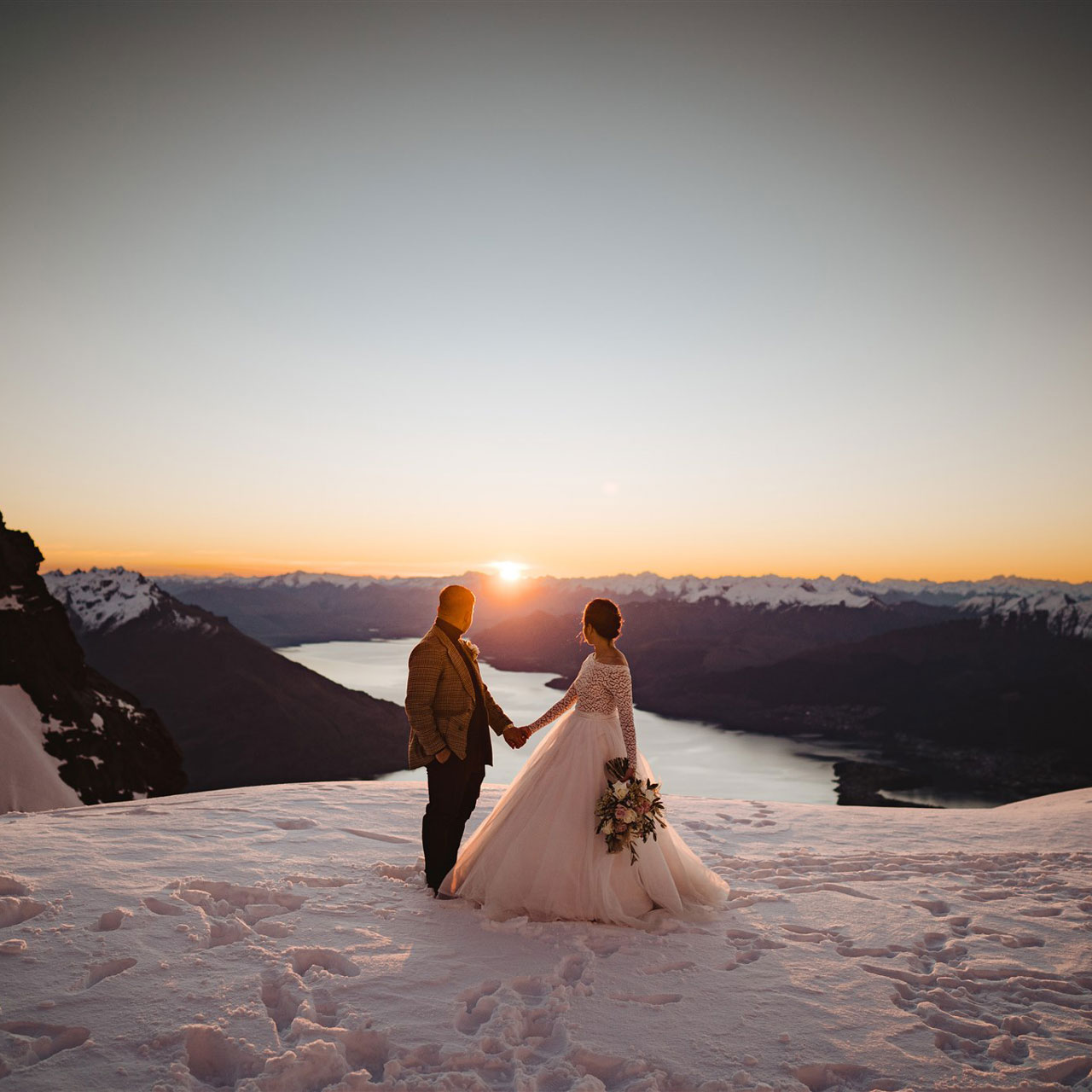 Double Cone, The Remarkables
Show Places