5 Wedding traditions, and how to break them!
For non-traditional couples seeking something a bit different on their Queenstown wedding day…
Here at Shaken & Stirred Weddings we love to see couples mix things up on their Queenstown wedding day. Whether you're opting for a small elopement or a bigger shin-dig with friends and whānau, the possibilities are endless on personalising your day. There's not necessarily anything wrong with wedding traditions but there's something exciting about challenging them and even creating your own!
So, here are five traditional wedding expectations, our tips for shaking things up, and some examples from real Shaken & Stirred weddings…
#1 YOU SHOULDN'T SEE EACH OTHER BEFORE YOUR WEDDING CEREMONY.
BREAK THE RULES:
Spending time together on the morning of your wedding day will ease your nerves before your ceremony. You can still set-up a "first look" moment for your photographer and videographer to capture and this is a truely special and private moment. You can even have your whole wedding photoshoot before the ceremony so that you have more time to spend with your guests afterwards!
FRANCIS & AEMON:
These lovely grooms spent time together on the morning of their Queenstown wedding day. They got dressed, video chatted with family back home in Ireland, and enjoyed a stiff drink together all before heading out to their wedding venue. Francis and Aemon arrived a couple of hours before their guests for a pre-ceremony wedding photoshoot. They had time to relax and get comfortable in front of the camera before getting wed and spending quality time with their guests for the rest of the day and night!
#2 YOU HAVE TO WEAR A WHITE WEDDING DRESS.
BREAK THE RULES: 
You probably want to look and feel your absolute best on your wedding day. But it's also important to look and feel like yourself. So if white is not your colour and dresses are not your thing… wear something else! And on a similar note, you can totally flag the veil too. Go on… be brave!
HOLLY'S RED WEDDING DRESS: 
Holly's gorgeous gown gave us all the dancing emoji feels 💃As Holly walked down the aisle with her mum all the guests were stunned by this beautiful and bold wedding dress. Click here to see Holly & Phil's highlights gallery.
#3 YOU MUST SET A SEATING PLAN FOR YOUR WEDDING DAY.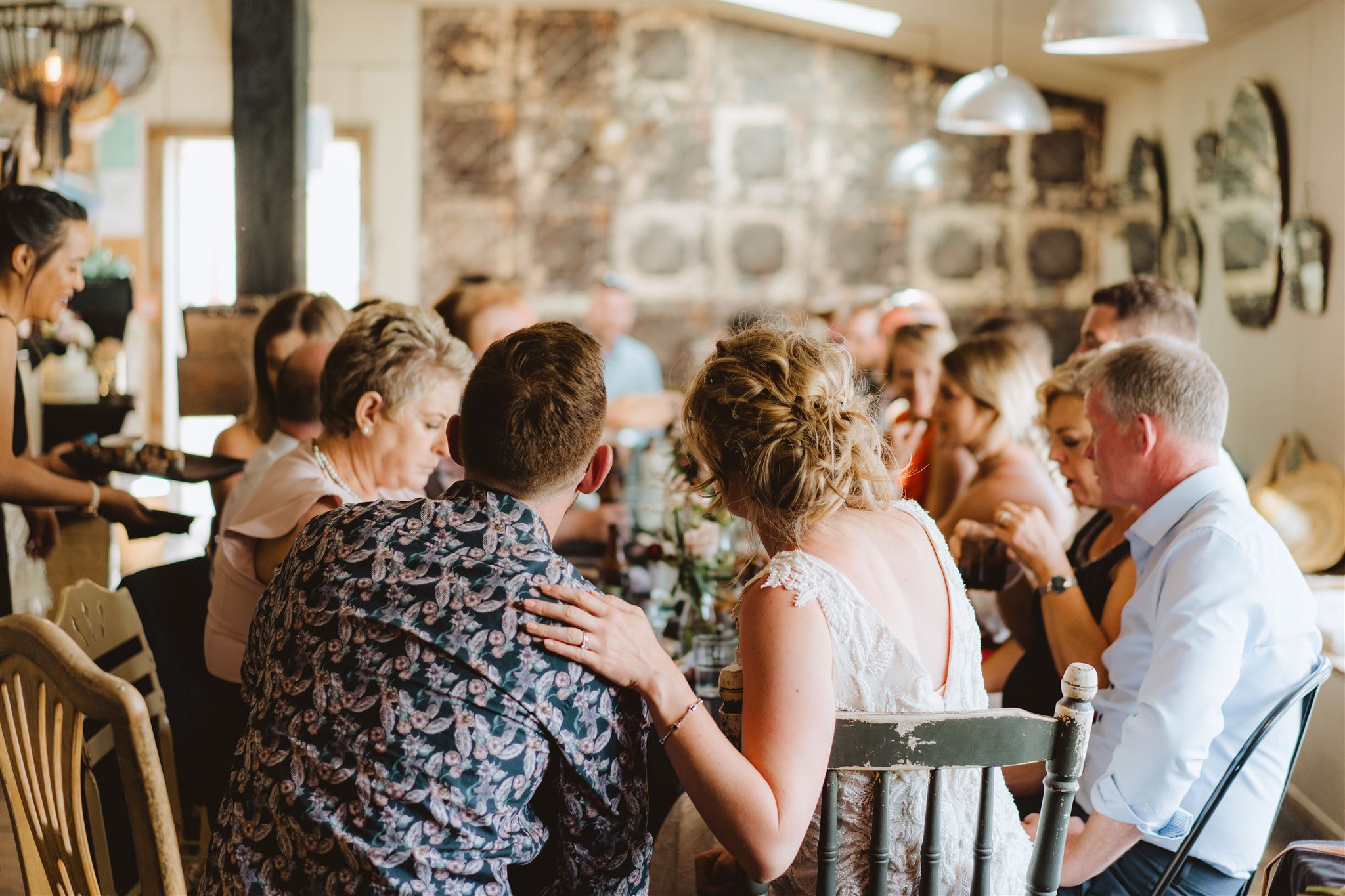 BREAKING THE RULES: 
Save yourselves time, money and stress by having a small bridal party or not having one at all. You can still include friends and family as witnesses or in other ways if you wish. If you do have a bridal party consider mixing things up with who stands where and who wears what.
GREG & STEVE: 
To keep things simple Greg & Steve opted for no bridal party at all. Instead, they included all their guests in a group "ring warming" where everyone held their wedding rings to warm them up with love! Click here to see Greg & Steve's highlights gallery.
#4 YOU NEED A BRIDAL PARTY THAT'S EVEN AND MATCHING.
BREAKING THE RULES: 
Let's start with your ceremony, do you really want to kick things off by dividing everyone up into two "sides"? And must you agonise for hours over who will sit where for dinner? Try letting everyone find their own seats and you'll be surprised how easy it is! You can still save some seats for VIPs such as parents for a nice balance.
CLAIRE & JOHN: 
For their fun and laid back wedding reception these newlyweds booked out their favourite brunch hangout for dinner! There was no seating plan and nobody noticed and nobody cared. There were a couple of speeches, lots of lovely food, and the drinks were flowing all night long. Click here to see Claire & John's wedding highlights gallery.
#5 YOU MUST "LOVE, CHERISH AND OBEY" YOUR NEW HUSBAND OR WIFE.
BREAKING THE RULES: 
Let's be real, nobody wants to have to "obey" anybody, let alone their partner! There is no specific wording that you must include in your wedding vows so you are free to let your creativity run wild and your personalities shine through, or keep things sweet and simple.
For wedding vow inspiration we love this post over on the Your Big Day Wedding Blog: 3 Modern Versions of Classic Wedding Vows for Your Own Queenstown Wedding 
HILDA & HARALD: 
This gorgeous couple speak 4 languages between them and shared their wedding vows in French on their big day. Hilda even threw in an "I love you" in Clingon as Harald is a big Star Trek geek!
Ready to break some wedding rules?